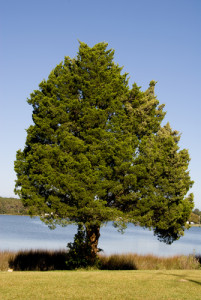 You cannot deny the fact that trees can actually add to the overall aesthetic value of your small garden, as well as providing shade for your patio, hammock or favorite chair, and giving you some much needed privacy from the prying eyes of your neighbors or a sidewalk. No matter how small your garden is, you can always find space for a tree if you will just consider some important information prior to planting.
If you want to plant trees to provide shade, without overshadowing everything else, you have to consider the following:
· How Big Will it Get
Before planting, remember some saplings may quickly grown and overwhelm your cozy little garden. You have to be sure that when the small tree matures, it will not spread out too much, damaging your house and providing too much shade.
· What it Looks like in All Seasons
It's important to consider what the tree will do during each season. How quickly do they lose leaves in the fall? How fast do they regrow in summer? Will the branches support the amount of snow you get each winter?
· Find a Dwarf Tree
Try to find dwarf trees that only grow up to three meters or so, like a Dwarf Alberta Spruce. These trees provide shade and beauty without growing to enormous sizes.
· Choose a Tree That Grows Upward
There are certain kinds of trees that grow almost straight up, which is great for small gardens. Dawyck Purple and Hornbeam Trees are examples of slender trees that can fit your limited space.
If you are resourceful enough, you can find many small trees that will fit your little space and grow up to a manageable 3 to 5 meters. Check online or ask at a nursery to find the best one for you.