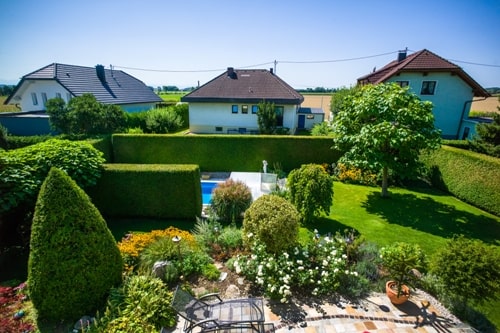 No matter the season, from summer's heat waves to winter's snow covered tree branches, there always seems to be the need for privacy screening your home and surrounding yard. In the summer outdoors living months, it is a nuisance to be observed by adults and children living nearby who find watching your hot tub, swimming pool or barbecue movements and leisure activities fascinating "reality without TV". In winter, the barren landscape affords theater seating from a block away.
Legal Leeching
Privacy conscious individuals who attempt to thwart being on open display by complaining to authorities learn that if the leech is on his own property, anything he observes on your property is gratuitous entertainment fodder. Privacy fences usually have a maximum height of 8 feet, which only means a nosy neighbor needs to be looking at you, your family or guests from a porch or window approximately 3 feet above the ground level, not an invincible situation.
Landscape for Beauty, Live in Privacy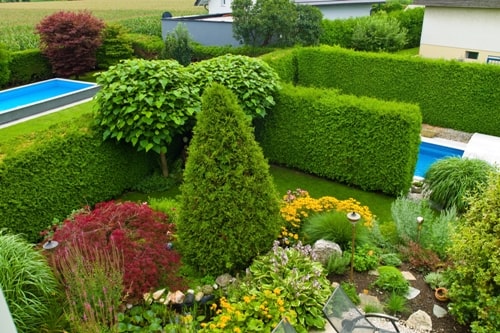 There are excellent solutions that will not deprive your property of cherished land space due to being uniquely small base circumference trees. They are also evergreen species, which allows for a green hedge of tall trees constituting your living fence. Most of the trees described below have extra benefits of being drought tolerant, and with freeze compliant DNA. From the northern banks of Canada to the Southern American Florida Keys, this list of tree families provides homeowners with:
• Very fast growth;
• High and low temperature tolerance;
• Drought tolerance;
• Wind resistant;
• Longevity in tree life;
• No surface roots hazard;
• Economical saplings to begin at many sizes
Homeowners Love the Following Evergreen Trees
An extra benefit of any of these evergreen privacy screens is that they will even work well in a narrow side yard between houses without overhanging branches or invading with traveling roots. They are full, lovely windbreak trees that give you a living privacy fence as high as you desire, protecting you from viewers and protecting you from unsightly views.
• Thuja Green Giant – fastest growing evergreen, these can attain heights of 50 feet, Christmas tree shape without a huge base circumference;
• Emerald Thuja, shorter version of Green Giants, up to 12 feet;
• Leyland Cypress, medium fast growth and make excellent living wall;
• Cedars, slow growing but huge trees, aromatic wood;
• Arborvitae, huge in circumference and height, with lifespan up 30-50 years, most suited to bordering acreage with living fence of evergreens
If You Don't Know Trees, Know Your Arborist
Each of the above trees is economical to purchase and maintenance. Excellently shaped, they require no trimming but tolerate it if the owner has OCD. Songbirds favor them for hidden nests. These evergreens have withstood hurricane blows for generations. Consult Canada's best arborist Caledon Treeland's experts for thorough advice regarding trees for your needs.