Evergreens trees look like pine trees and are known to be ideal decorative trees for big gardens. This tree is known to be abundant in cold areas in the northern hemisphere, including Canada. The evergreen tree holds a distinction as one of the most-purchases species among other trees and shrubs because it has some benefits for the owner.
You see, if you put one of these Evergreens trees in your garden or in your lawn, it can actually protect you from the onslaught of the northern winds. Some like to purchase privacy shrubs and other plants for that, but this type of tree has a good resistance against the cold. You are better off purchasing this type of tree than the other types of trees and shrubs being sold in the nursery.
Types of Evergreen Trees
There are six types of Evergreen Trees that are commonly sold in plant shops. Shops sell these types of trees also typically offer services to move the trees to their buyers' properties. Anyway, here are the six types of evergreens you will normally encounter.
Norway Spruce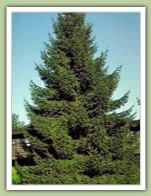 The Norway Spruce Tree is a fast growing tree with a graceful figure. This tree boasts of sweeping branches when it reaches maturity. A fully grown Norway Spruce can gain a maximum height of 25 meters and has a spread of 12 meters. It is perfect for corners in your big garden, since it needs a large area to spread its branches. The shade provided by its large spread is also perfect for covering your homes and providing shade when the sun is high.
White Spruce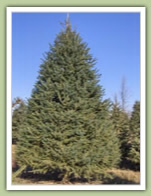 For a tree that can protect you against very strong winds then you should try the White Spruce. The White Spruce has a hard trunk which is excellent at breaking the strong winds. It is preferable to plant these trees in areas which you want to protect from strong winds. Thus they can be planted right next to your house or in the middle of your garden.
Colorado Spruce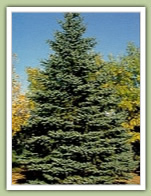 Another hardy tree that you can use for wind breaking is the Colorado Spruce. This tree is sturdier than the White Spruce though. It can also be used as a specimen or a hedge for your garden. It can grow up to 20 meters and has a spread of 5 meters.
Colorado Blue Spruce
The Colorado Blue Spruce is another form of the original Colorado Spruce. This form is an excellent specimen. It has intense blue needles which is where its name got it from. It can also grow up to 20 meters and has a spread of 5 meters. It is not that fast growing, only medium but it can achieve maximum height at a certain time.
White Pine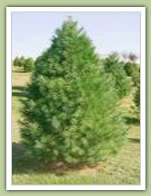 The White Pine or the Pinus Strobus has a height of 25 meters and a spread of 10 meters. You might want to purchase this one for two reasons. This tree can grow fast which is excellent for those who want their trees rooted and firm right away or after just a small amount of time.
The White Pine's needles are soft, long, and green which is a perfect match for your privacy shrubs. Since it is a perfect match for your shrub, it makes a perfect privacy screen. This is also good as a specimen.
Serbian Spruce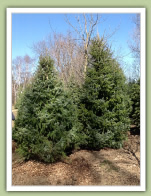 The Serbian Spruce is one of the most graceful of all spruces. As one of the Evergreens Trees, this also is great for providing shade for your garden. Aesthetically, the tree has thin arching branches and a slender straight trunk, which gives it that graceful look it is popular for.
The needles of this tree can be colored anywhere between light-green and blue green. It can grow as high as 15 meters and has a spread of 8 meters, which is actually not as wide as any of other spruce trees. This tree makes it excellent for landscaping projects.
How to Find the Perfect Shop
There are several garden shops at your local area but there are certain shops that will offer the best services for their customers. Evergreens Trees should be particularly handled with care when it is transferred so make sure you know the shop you are dealing with.
First you have to talk with the owner or the attendant of the shop. You can ask for details for their services and their plants as well as their procedures for transplanting their trees and shrubs. Make sure that you ask a lot of questions so you can be well-informed.
Finally, you can check for the prices and service fees, typically through the Internet. If you find their rates to your liking then perhaps this is the shop for you.
Securing and planting trees is not that easy to do. If you do not have enough experience and knowledge, always ask for the help of a professional tree planter to make sure your Evergreens trees are safe.