As a child, I dreamed of playing not on a playhouse but on a house built on top of a giant tree. Just like what I see in the movies. It may sound creepy if you imagine your tree house is in the middle of the woods and there is no one around but it could also mean a whole lot of fun, definitely an exciting adventure. The pure an innocent heart of a child has no sense of danger because it only holds anything that is bright and beautiful.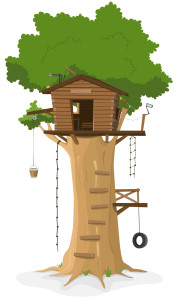 When we see or just imagine a tree house, we will be amazed of its magnificent beauty. It looks so serene, so relaxing and the ambiance, so comforting. This I think is another property of trees, they provide shelter and comfort to a child and even to a child at heart.
Just recently, I came across an article showcasing many extraordinarily beautiful tree houses. The one that actually captured my attention is the three story tree house in British Colombia. Also considered one of the tallest tree houses in the world, is now gaining popularity because it is one of the tourist attraction in British Colombia, Canada.
Looking at the pictures of many famous tree houses makes me wonder if it is possible for me to build one at home. I always have this in mind that when you want to have a house on top of a tree, you have to be living on top of the hill or down into the woods. However, you can actually be creative and play with woods. There are a variety of wooden materials available. You can improvise and customize. You can make a mini tree house in your backyard or build a wooden cottage in your front yard by cutting a tall, old tree. You can commission someone to cut that trees in your backyard and start making wooden furniture for your future tree house. There are actually no limits to your imagination especially when you think that there is more to a tree than what we usually perceive it to be.