Evergreen trees are one of the most popular decorative and useful trees that people have on their properties. These hardy trees fill up space in a yard to provide privacy, greenery, and year-round beauty. Unfortunately, they are prone to diseases like any other tree and people should be informed of the issues they should watch out for. Here are 3 diseases that can affect an Evergreen tree, and how a homeowner can watch out for signs of illness.
Needle Cast Tree Disease
This is a disease that can cause an Evergreen tree to begin shedding its needles. This is something a homeowner may notice before a tree begins to go bald. Before needles begin to fall, the tree will often start to turn red or brown instead of its classic vibrant green. Fungi begins to take over the tree's needles, and without proper treatment the entire tree can be lost. This common disease can be easily treated by eradicating the fungi that makes the condition worse.
Rotting Roots
Rotting roots can happen to any tree. Without a proper root system, an Evergreen tree can die off over time. Rotting roots are a result of wood decay from fungi getting in the root system, and results in a weakened wood that breaks off of becomes spongy. A homeowner may not notice this disease right away, and should call an expert for diagnosis and treatment if they believe their tree is in danger. Signs of rotting roots include a tree that is sagging or drying out slowly due to the inability to suck in proper nutrients.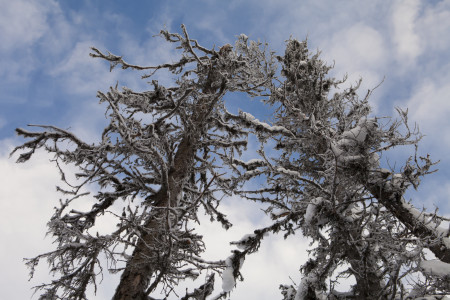 Canker Tree Disease
Canker Tree Disease is another ailment that is caused by fungi. This fungi affects the trunk of the tree, and causes it to weep or ooze. Yellow patches and spongy areas can be seen on a tree that suffers from this disease. Since the fungi that affects the Evergreen trees sucks away the natural nutrients that the tree needs, even a small blight can take over a tree very quickly without treatment.
While most issues that can overtake a person's Evergreen tree can be prevented and treated, if a tree needs to be replaced customers can count on us at Caledon Treeland to provide them quality trees at an affordable price. We encourage anyone who is having Evergreen tree issues to call us today to get their tree issues under control.