The Red Maple tree gets its name from the beautiful red foliage. It is becoming more popular with landscaping experts due to the fact that it reproduces well by seeds and sprouts. It is a very fast growing tree that has a close grained, strong wood that can be used to manufacture fairly inexpensive furniture and other commonly used pieces like baskets and crates. Its fruit is very important for wildlife food because it develops in the spring when other types aren't readily available yet.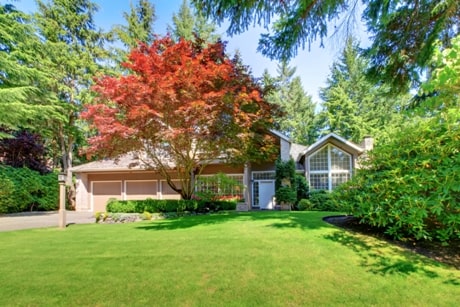 BRILLIANT COLORFUL FOLIAGE
The leaves are the shining star of the Red Maple. It provides beautiful color all year long that gives any landscape visual excellence. Leaves vary in size but maintain two to six inches in length with the average around three to four inches with about the same measurement in width. Its shape is well known for the distinct triangle variety. The first appearance of the leaves are green with a hint of red but when the tree reaches maturity it features shiny, medium to deep green on top with a silvery pale green on the underside. Sometimes the leaves turn golden yellow but more commonly turn orange-red to beautiful scarlet red before they fall. This not only provides an eye catching color in the tree but creates a bed of vibrant color across the floor of the landscape. On top of the distinctive autumn colors, male trees wear pleasing clusters of reddish flowers come spring, with twigs and leaf stalks of a red tint the summer and red buds in the winter. From April through June they produce fruits called samara that are unusual because the seed is on one end and the other end has a pair of wing-like projections that are referred to as whirlybird or helicopter.
BARK AND ROOT SYSTEM
The bark on young trees is a smooth, light gray color that resembles beech. As it matures it becomes darker in appearance and roughened into long ridges that are shaggy or scaly with plates lifting on the upper or lower edge. Bark character varies from tree to tree in the same area. The Red Maple has a highly adaptable root system. This means it can grow in dry or wet locations or shady or sunny locations. It is best grown in moist to wet acidic soils with full-sun locations. The Red Maple produces maple syrup that can be consumed but isn't as sweet as the sugar maple.
CARE AND MAINTENANCE
Red Maple trees usually don't need much maintenance or fertilization. When you do fertilize be sure not to over fertilization because you can permanently damage the tree. You only need a general purpose fertilizer early in the spring. Watering and pruning should be kept at a minimum due to its adaptability for seeking out moisture and the fact that the tree will adapt it height to the available space given. This is just the basics of this beautiful tree. Call Caledon Treeland for more help.