Have you ever taken photos of fall foliage? Isn't it picture perfect?
While I was scanning photos that has nature as the main subject, the photos of autumn leaves from different tree species attracted me most. It is so magnificent, enchanting and splendid.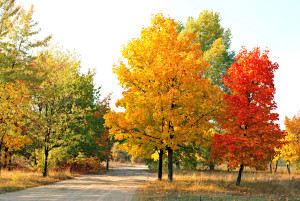 The changing of colors of some trees is a phenomenon that many people look forward to come autumn season. It is such a breathtaking view to see green colored leaves turn into various shades of red, yellow, purple, black, orange, pink, blue, brown and magenta. This phenomenon is known as autumn colors otherwise known as fall foliage.
Viewing this spectacular show of color staged by nature itself has become a major tourist activity in some areas in the United States and Canada. This usually happens in the beginning of fall. Just by mere looking at the pictures taken during this beautiful season of colorful trees, I noticed that there are certain trees that really stand out.
Among these trees are:
· Sugar Maple Tree
The sugar maple tree looks brilliantly beautiful because it displays a variety of colors during fall. Its leaves of green turn into yellow then to orange then finally into red. This tree is outstandingly beautiful all year long.
· Red Maple Tree
The leaves of this tree can either be deep yellow or red. This tree is common across Canada and the US. You will be amazed by its grandeur. It can grow up to fifty feet.
· Sweetgum Tree
The leaves of Sweetgum tree showcases a variety of colors in autumn from purple to orange to yellow to red. It is simply breath taking.
· Oak Tree
There are a variety of Oak trees but the red Oak tree is one of my personal favorite. It is a sight to behold during fall.
This tree shines as bright as the sun during fall. The fancy leaves of these trees turn gold and offer an attractive view because it glows.
So if you want your front of backyard to be a lovely sight that people walking nearby will turn their heads in awe, then don't wait to be fascinated by trees during fall. Plant one of yours now and give your place that picture perfect painting look.