Looking Trees For Sale in Aurora, Welcome to Caledon Treeland
Fences can only be 8 feet tall by law, however our trees can provide a privacy curtain of up to 25 feet. Some people put up fences, others install gates. Fences and gates are very limiting and are only allowed in certain neighborhoods to be 8 ft. tall. In Aurora, planting trees for privacy is becoming an alternative to a fence.
Trees add beauty and value to a landscape. Caledon Treeland provides trees for sale in Aurora and offers a lot of different typesfor customers to choose from. Our trees can boost a property's value in the aesthetic department and customers can pick the ones they like from our tree farm.We offer a wide selection of trees for sale including: sugar maple, blue spruce, autumn blaze maple and Norway spruce, linden, ginko, Serbian spruce and more.
What Aurora trees for sale bring
Any residential or commercial property can greatly benefit from trees for sale in the Aurora area. Aside from aesthetic value, they also give a blanket of privacy, shielding homes from others. The trees can also double duty as wind breakers against the cold wind coming from the north. With over two decades of experience, Caledon Treeland offers an extensive service package to their customers. These services include tree supply, planting and on site transplanting. The company also provides advice to their clients on how trees can provide privacy and add value and beauty to any home. Trees can provide a property make-mover to their residential or commercial property. The company has a wide selection of trees to transplant from their tree farms to the customer's lot. These trees are a good alternative to fences structure as they are not limited to city regulated 8 ft tall fencing.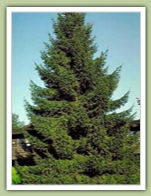 The process starts with the customer selecting a tree at Caledon Treeland. The tree is then transplanted to the site using modern treespade equipment. It is properly finished with topsoil and secured against the wind.