Hold it. I know what you're thinking. There is no question that you want to have trees in your yard for shade or ornamentation or for whatever purpose but then you are confronted with the issue on space. You sure don't want your trees to be bigger than the space allotted for it. Do you?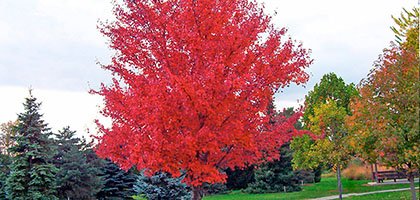 Now, the best thing to do is to search for trees that doesn't grow too big and overwhelms your yard. You can start by researching the ideal trees which size could fit in your tiny front space. There are trees that are small by nature like the Royal Red Maple Tree for example. It grows only with a height about 10 metres and spread only by up to 7 metres. This tree is popular and it belongs to the Norway Maple variety. It is famous for its dark purple-colored leaves that seem to be very attractive all throughout the seasons.
There are also other small trees that are readily available such as the Japanese Maple tree if you want to see a golden view or the ornamental crab apple if you want to see a lavish display of white and pink colored leaves early in the morning while sipping your favorite cup of coffee. There are more varieties of trees that would somehow answer your issue on limited planting space. You just have to go the extra mile on your research.
Dropping by a tree provider or consulting an arborist is not a bad idea. If you want to be sure that the tree you want to have will suit not only your preference but also the space requirement. I sure know you don't want to uproot a tree or subject yourself to the hassle of having to move it when it blocks significant space.